About


Maasmedics is located in the area 'de Heeg' in Maastricht. We focus on offering great quality medical care and excellent service to our patients. The regular team consists of 2 family doctors, 4 assistants, 1 psychologist and 1 cardiovascular assistant.
There is free on-street parking and a free parking garage just outside our practice.
The practice has been modernized and offers full disabled access. You will find children's toys and a play table in the waiting area. There is a washroom and you will find a baby changing table in the bathroom in the waiting area.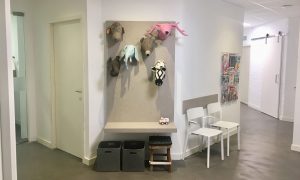 Doctors
We have daily consultation options (Monday to Friday) with a range of different appointment times to suit you. It is recommended to discuss 1 main health topic per consultation. For more information about the services we provide, please check our Maasmedics medical services page.
Assistants
For brief medical questions you can always reach out to our assistants. They have had a medical education and are trained to help you to resolve medical issues. When the assistant is unable to answer your question, he/she will consult with the doctor.
You can make appointments with our assistants for several medical services like blood tests, wound care and injections. The full list of services that the assistant can provide is available at our Maasmedics medical services page.
Psychologist
For mental health care you can consult with Ilana van Dienst, she is a psychologist. She works on site. After referral by the family doctor you can make an appointment with her.
Trained Cardiovascular assistant
Care for our patients with chronic diseases like diabetes or cardiovascular diseases is carried out by our trained assistant Jolanda Engwegen in cooperation with the family doctors.
Home visits
We offer home-visits for regular patients who live within the area and are incapable to come to the practice because of physical reasons. When you would like to schedule a home visit, please contact our assistant by phone. When a home visit is necessary for the same day, please let us know before 10.30 AM.